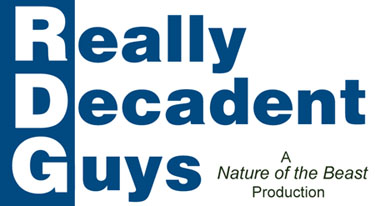 ---
Overheard:
&nbsp &nbsp &nbsp Vincetti: You know, I can't decide which one of you is uglier!
&nbsp &nbsp &nbsp Donnie: That would be him- He's uglier than a mother-fucker!
&nbsp &nbsp &nbsp Erol: Biatch
&nbsp &nbsp &nbsp Paul: That's... pretty ugly.


---
'Really Decadent Guys' is the next Nature of the Beast production. We recently wrapped principal photography in October of this year, after just over a year of filming. We currently have a few insert and touch-up shoots to do, as well as many months of post-production in editing, sound work, special f/x, sound work, scoring, and a bit of sound work. My hope of having a semi-complete version of the video edit by the new year turned out to be a pipe dream, and I now realize there are simply too many unknown factors at work to realistically estimate a completion date. "Within a year" is all I can say right now. Editing is currently progressing.

Cast Page - View images of the cast/characters.

Behind the scenes - Images and info from the set- Updated regularly as filming progresses. Last update: 11/8/00

NEW: Finally uploaded the changes I made to the cast page. Hopefully, the behind the scenes image gallery will be next.

---
---
Back to Main Directory